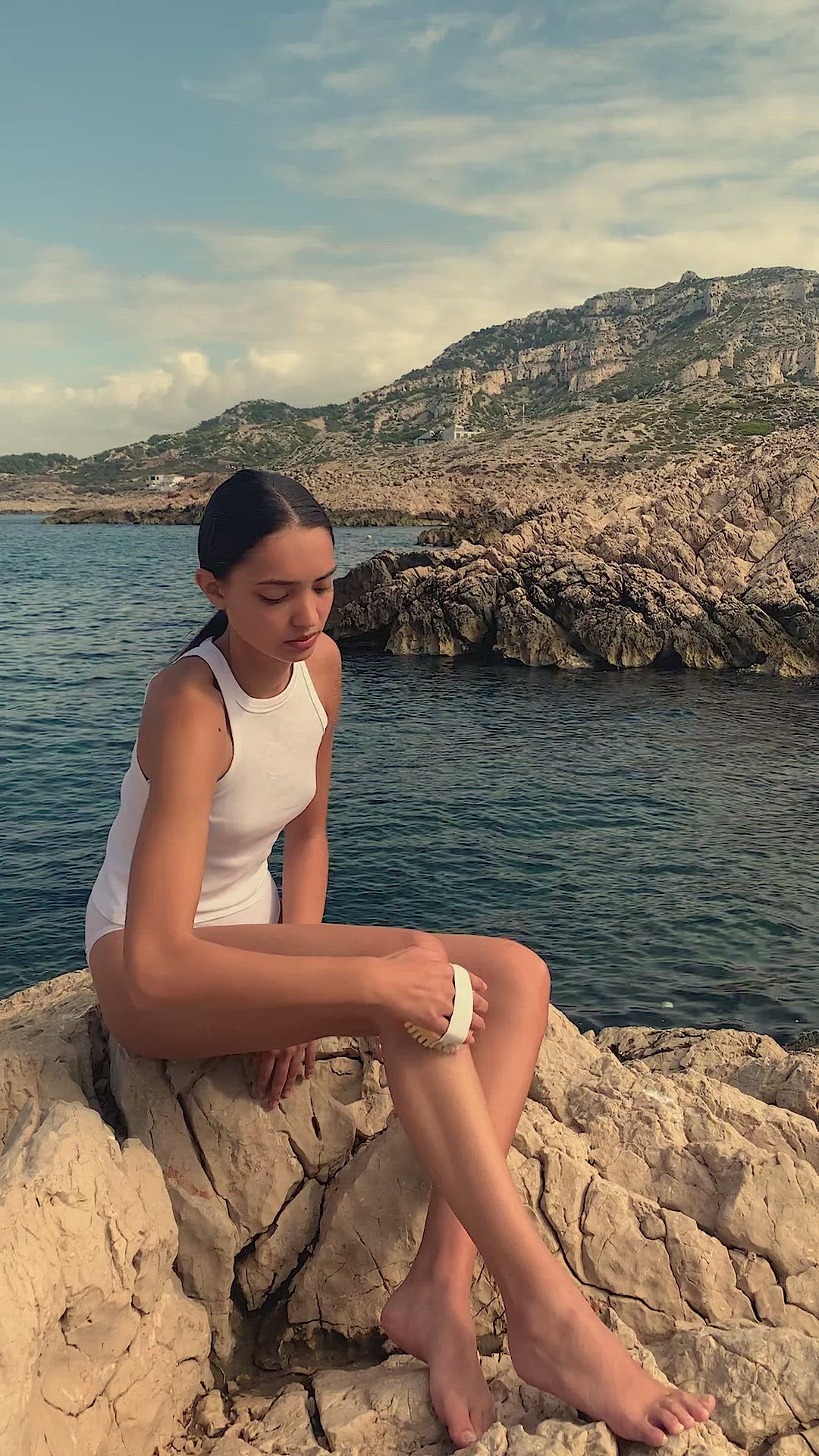 The Dry Brush
This minimalist, circular massage brush with 100% natural bristles in medium strength is the ideal brush for your daily dry brushing ritual.
WHY IT'S GOOD FOR YOU
Body dry brushing is an ancient Ayurveda healing method and has numerous benefits for your health and well-being. Just a few minutes of dry brushing per day is enough to increase your health and energy level!
Regular dry brushing
promotes blood circulation and lymph flow,
effectively removes dead skin cells and stimulates the growth of new skin cells,
removes toxins (detox),
strengthens your immune system – especially in the cold season, and
helps you firm and tone your connective tissue.
WHAT MAKES IT SPECIAL
Our ruhi brush is specially designed for body dry brushing and has the perfect bristle thickness for your skin: not too soft and not too firm! It exfoliates gently yet effectively – without scratching.
It is made of 100% natural bristles and oiled, regional beech wood from responsibly managed forests. The brush is free of plastic.
The practical, elastic rubber band is certified to the ÖKO-TEX® STANDARD 100. This dry brush is sustainably and traditionally crafted in Germany.
Always begin at your extremities (furthest away from the heart) and brush towards the centre of your body. Brush lightly with slow and even strokes towards your heart.

Legs: Start at your feet and massage towards your lower thigh. Brush from your lower leg to your thigh and then brush towards your buttocks.

Arms: Begin at the backs of your hands and work upwards to your shoulders.

Stomach and back: Follow a clockwise direction on your stomach. Start on the bottom right side of your abdomen and stroke upwards until you approach your ribs. From there, brush horizontally to the left and continue down from there. Then brush your back over the sides in a circular movement.

Cleaning and care: Shake out the brush head after each use by gently tapping it against a hard surface to remove all skin cells. Don't clean the brush with water, and store it in a dry place.
MATERIAL & SUSTAINABILITY

MATERIAL

Regional, oiled FSC-certified beech wood

Dimensions: diameter of 100 mm

100% natural bristles (bleached wild boar bristles, ethically sourced)

Bristle thickness: medium

Sustainably crafted in Germany

Elastic rubber band is certified to the ÖKO-TEX® STANDARD 100.

The brush may lose individual hairs during the first few uses. This is completely normal and will stop by itself after a short time.

PACKAGING

Cardboard made from recycled FSC paper printed with environmentally friendly inks

Free of plastic

SUSTAINABILITY

Our brushes are always packaged plastic-free. We make our packaging from recycled, FSC-certified cardboard that is printed with environmentally friendly inks.

Our brushes are made in a family-owned, FSC-certified company based in Germany that employs sustainable practices.

Our manufacturer is also EMAS certified, also known as the EU Eco Audit. EMAS ensures that all environmental aspects – from energy consumption to waste and emissions – are implemented in a legally secure and transparent manner.
Dry brushing, also called gharsana, is an important part of the millennia-old Ayurveda healing teachings of India. The aim of dry brushing in Ayurveda is to move the lymph fluid towards the heart. This is intended to guide stored toxins and metabolic waste into the liver and kidneys and, ultimately, to drain them away.

Body dry brushing is also an integral part of naturopathy. Sebastian Kneipp, the famous German naturopath used dry brushing to prevent colds and infectious diseases.
Choose options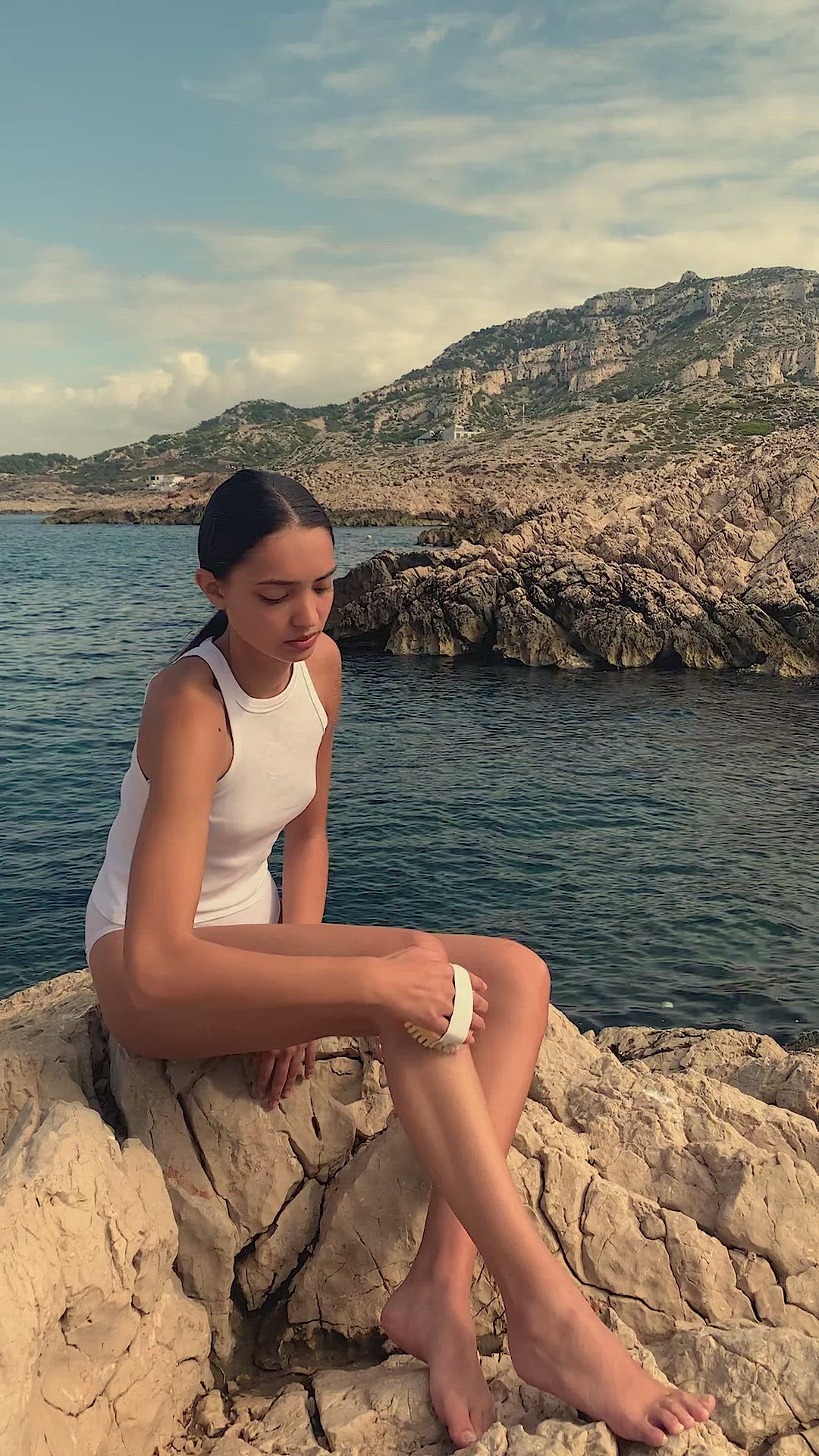 Schönes Produkt
Die Bürste ist sehr handlich und sitzt dank elastischem Band auch gut an der Hand. Die Borsten haben genau die richtige Härte. Was mich etwas stört ist, dass beim Bürsten nicht nur Hautschuppen, sondern auch einzelne Borsten aus der Bürste fallen. Ich hab es jetzt so gelöst, dass ich mich in der Dusche bürste, auch wenn ich mich danach nicht immer abdusche.
Tolle Bürste
Ich habe mir diese Bürste wegen meiner Reibeisenhaut bestellt und wende sie täglich morgens an. Schon nach kurzer Anwendung habe hat sich eine Besserung gezeigt. Zudem wirkt meine Haut straffer. Die Bürste liegt gut in der Hand und ist sehr wertig. Ich bin begeistert und würde sie wieder kaufen.
Toll
Tolle Bürste mit einer mega Qualität
Wunderbares Hautgefühl
Eine tolles Produkt.
Sehr wertig und ein gutes Preis-Leistungsverhältnis. Haptisch schön
und das Bürsten wirkt sich definitiv positiv auf die Durchblutung und das eigene Körpergefühl aus.
Habe mir die Gesichtsbürste noch bestellt und den Obsidian werde ich verschenken.
Ich bin sehr zufrieden.