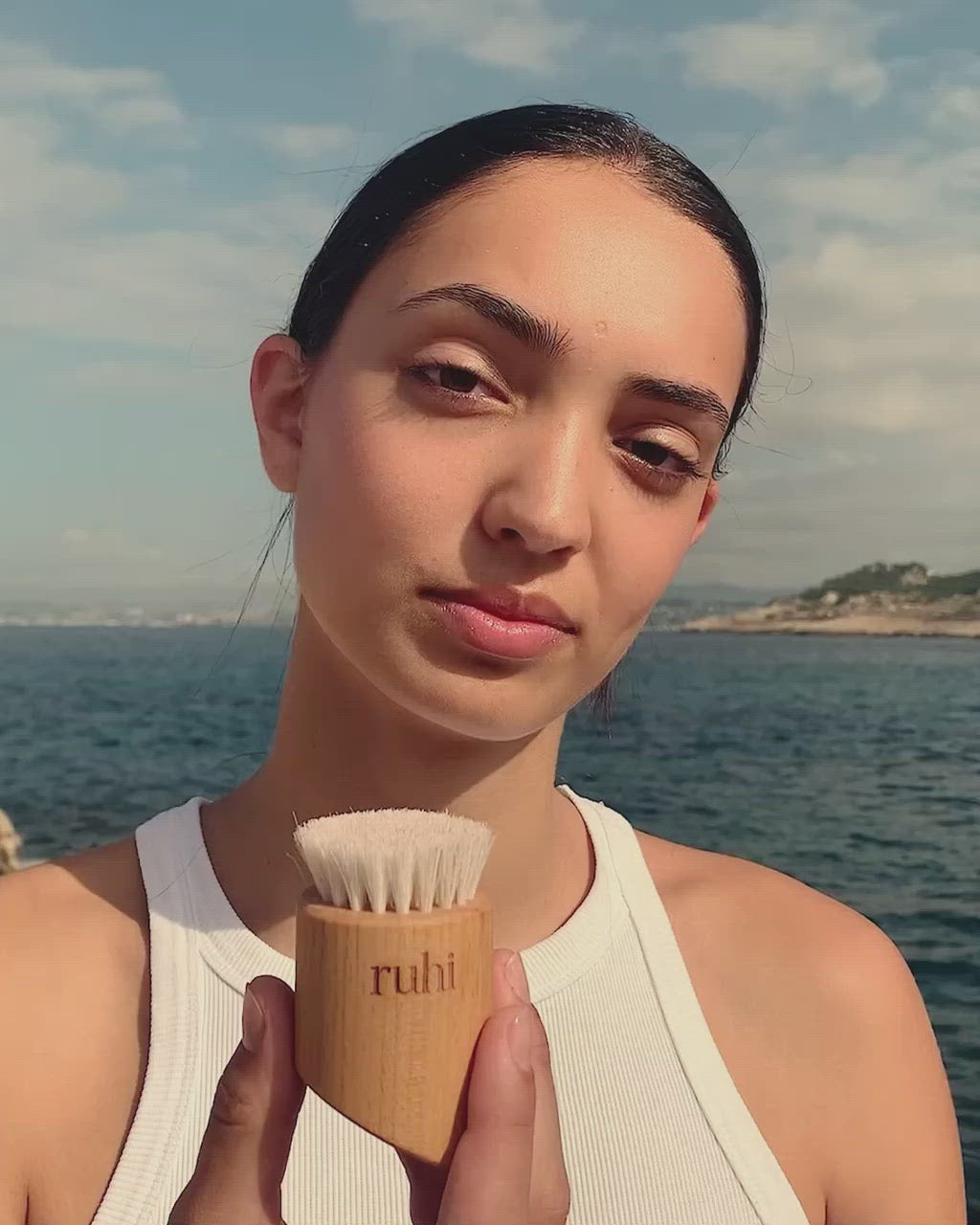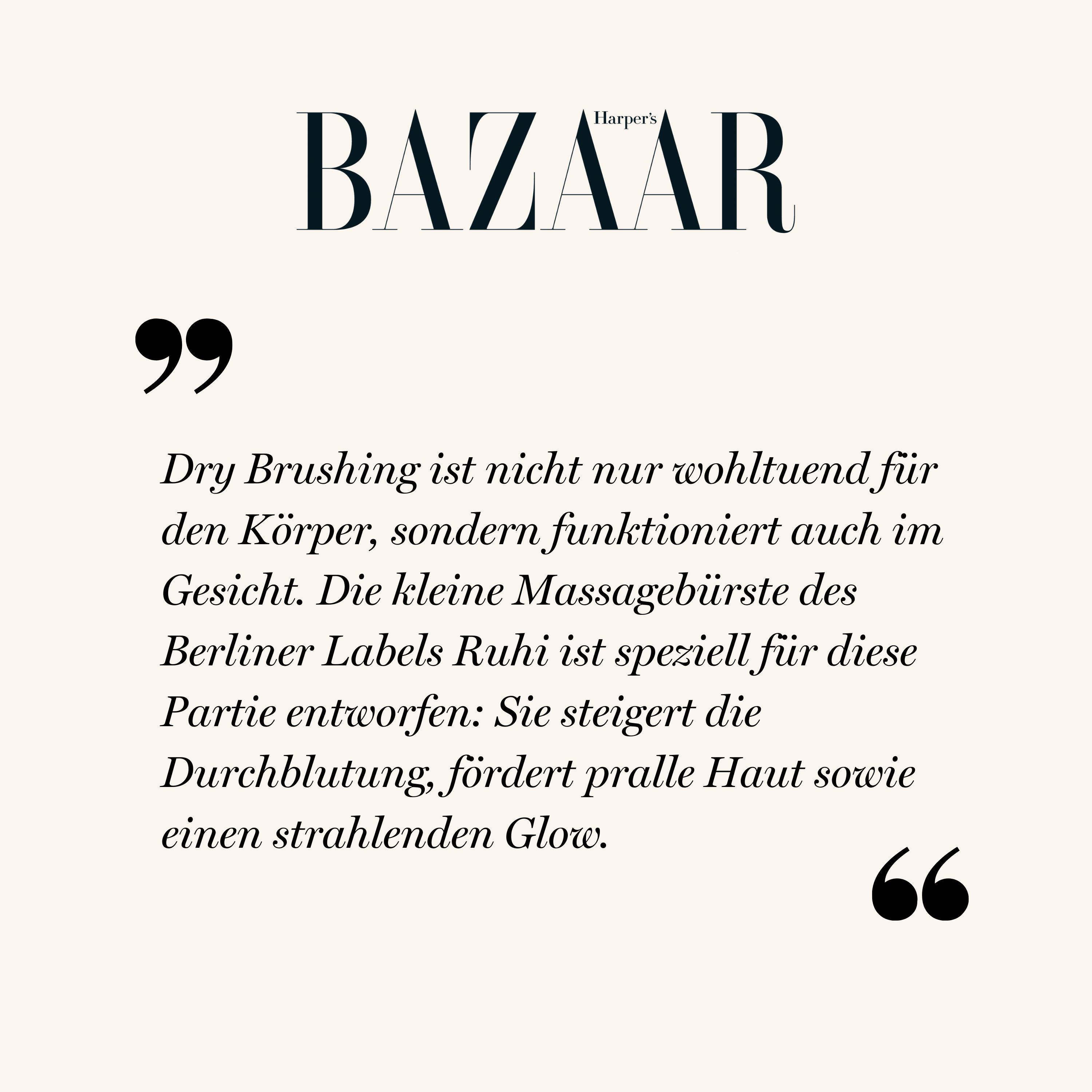 The Facial Dry Brush
This beautifully shaped wooden brush with 100% natural bristles is the perfect tool for your daily face brushing ritual. Just a few minutes of facial massage per day with our Facial Dry Brush are enough to boost radiance and promote the health of your skin.
WHY IT'S GOOD FOR YOU
Dry brushing is an ancient Ayurveda healing method for more energy, health and radiant skin. Face brushing works in the same way as body dry brushing.
Regular facial dry brushing
stimulates blood circulation and lymph flow,
effectively removes dead skin cells so that the skin underneath can breathe again,
stimulates the production of new skin cells and leaves your skin fresh and radiant (bye-bye, grey veil!),
refines your complexion and reduces small lines and wrinkles,
reduces swelling,
helps your skin to detoxify itself naturally,
increases your skin's absorption of skincare products, and
leaves your skin radiant and glowing.
Immediately after face brushing, your skin is rosy, fresh and feels plumper; after several weeks, the appearance of small wrinkles is reduced and the complexion is refined.
WHAT MAKES IT SPECIAL
The ruhi Facial Dry Brush exfoliates gently and effectively. Its bristle thickness is medium-soft and therefore ideal for sensitive facial skin.
Due to its special shape, it lies perfectly in your hand and effortlessly reaches all contours of your face.
Our face brush is made of 100% natural bristles and oiled, regional beech wood from responsibly managed forests, and does not have any plastic inserts. It is sustainably and traditionally crafted in Germany.
Preparation: Always use the brush on dry skin. Without pressure, brush with light strokes and repeat the following steps 3-5 times on each side of your face.

Eyes: Brush gently around your eyes and over your eyebrows in circular movements.

Cheeks and jawline: Start at your chin and brush towards your hairline. Move up to your mouth and nose and stroke out towards your ears.

Forehead: Place the brush in the middle of your forehead and brush horizontally out towards your temples. Work with short upward strokes between your brows.

Neck: Start at the base of your neck and brush up towards your chin. Done! Apply your favourite skincare product and enjoy your silky-smooth and glowing skin.
MATERIAL & SUSTAINABILITY

MATERIAL

Regional, oiled FSC-certified beech wood

Dimensions: diameter of 43 mm, length of 76 mm

100% natural bristles (ethically sourced horse mane hair; the horses only have their manes trimmed)

Bristle thickness: medium-soft

Sustainably crafted in Germany

The brush may lose individual hairs during the first few uses. This is completely normal and will stop by itself after a short time.




PACKAGING

Cardboard made from recycled FSC paper printed with environmentally friendly inks

Free of plastic

SUSTAINABILITY

Our brushes are always packaged plastic-free. We make our packaging from recycled, FSC-certified cardboard that is printed with environmentally friendly inks.

Our brushes are made in a family-owned, FSC-certified company based in Germany that employs sustainable practices.

Our manufacturer is also EMAS certified, also known as the EU Eco Audit. EMAS ensures that all environmental aspects – from energy consumption to waste and emissions – are implemented in a legally secure and transparent manner.
Dry brushing, also called gharsana, is an important part of the millennia-old Ayurveda healing teachings of India. The aim of dry brushing in Ayurveda is to move the lymph fluid towards the heart. This is intended to guide stored toxins and metabolic waste into the liver and kidneys and, ultimately, to drain them away.

Face brushing is based on the same methods as classic dry brushing. The lymph flow and blood circulation in the face are stimulated by the brush massage, old dead skin cells are removed and toxins are expelled. The skin is optimally supplied with oxygen again, and the production of new, healthy skin cells is stimulated. The grey veil disappears, and fresh, healthy and radiant skin appears.
Choose options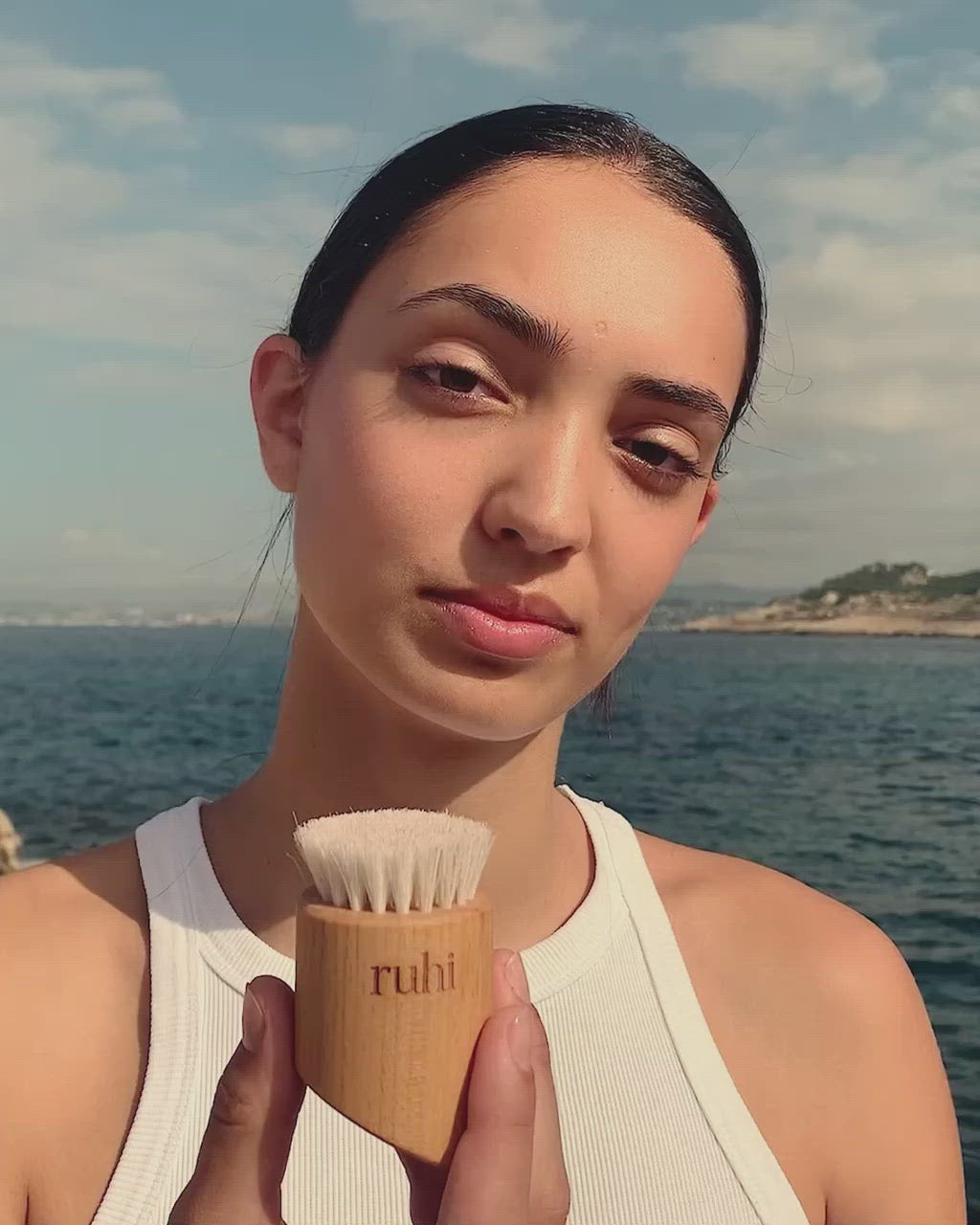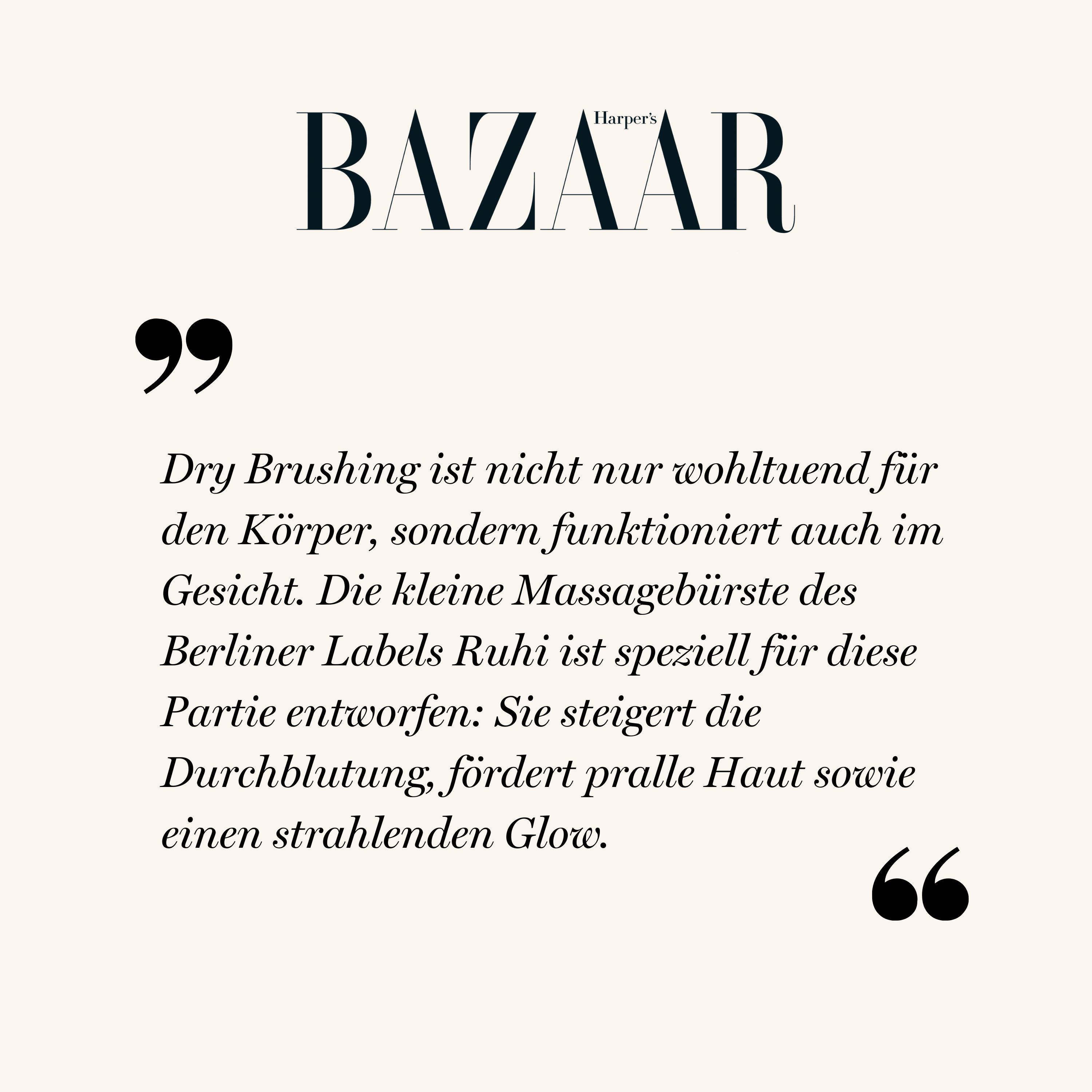 Schöne Bürste
Auf der Suche nach einer Anleitung zum Trockenbürsten bin ich zufällig auf dieser Homepage gelandet. Da ich sie sehr ansprechend fand, habe ich im Shop gestöbert und zwei Bürsten bestellt: die Körperbürste (Dry Brush) und die Gesichtsbürste (Facial Dry Brush). Aussehen und Haptik sind sehr ansprechend. Nicht zu hart. Ich benütze sie jetzt regelmäßig und genieße das gute Gefühl danach. Werde mir auch noch das Körperöl bestellen.
Hallo, liebes Team
Bin sehr zufrieden mit der Gesichts - und der Körperbürste. Die Bürsten sind gut händelbar und von guter Qualität. Absolut empfehlenswert. Freue mich jeden Tag auf mein neues Ritual. Liebe Grüße Giovanna
Mein neues Ritual
Ich bin total begeistert. Es tut richtig gut und ich freue mich auf das neue Ritual.
Sehr angenehm, trotzdem effizient
Dry Brush
Hallo Liebes Team :)
Ich habe vor kurzem eure Sachen bestellt bzw einen Face Dry Brush und den Dry Brush für den Körper und bin mega begeistert - ich benutze beides gleich in der Früh und ist nicht mehr von meiner Morgenroutine wegzudenken :) Meine Haut ist viel weicher und ich werde weiterhin testen aber ich bilde mir ein das meine Wassereinlagerungen besser werden :)
Ganz liebe Grüße Ellen :)